*This item is only for Pre-Order; Pricing listed is downpayment for the total machine price. Kindly select Pick-up option for shipping.
**Form 3L ships Q1 2021*
Form 3L
Bring Large Format 3D Printing In-House
Scale up your in-house print production with the Form 3L, an easy-to-use large format 3D printer for reliable production of industrial-quality parts.
 Small Details, Big Results
Eliminate the turnaround time of outsourcing or the manual work of assembly for large scale 3D prints. The Form 3L offers a massive build volume at an unprecedented value.
| HEIGHT | WIDTH | DEPTH |
| --- | --- | --- |
| 11.8 in | 13.2 in | 7.9 in |
| 30 cm | 33.5 cm | 20 cm |
40,000,000 Parts Printed With Formlabs Technology
Incredible Part Quality
Stop sacrificing on quality for larger prints. The Form 3L provides the incredible surface finish and fine detail that stereolithography 3D printing is known for.
 
25μm
Optimized laser path:
Two staggered Light Processing Units (LPUs) inside the printer use a compact system of lenses and mirrors to deliver accurate, repeatable prints.
Crisp, clean features:
Each high-density laser passes through a spatial filter to guarantee a clean laser spot.
Consistent precision:

A parabolic mirror ensures that the laser prints perpendicular to the build plane, ensuring uniform print quality across the entire build platform.
Intuitive and Efficient
No specialized technicians required. The Form 3L offers automatic resin dispensing, simple print preparation software, and an interface anyone at your company can use.  
Nonstop printing:
Integrated sensors help maintain ideal print conditions and send you alerts about the state of your machine. 
Closed-loop calibration:
Optical sensors continuously correct for scale and power, and can even detect dust.
User-replaceable components: 

The Light Processing Units, rollers, and optics window can be replaced in-house, reducing the need for replacement printer shipments.
Pinpoint Precision
Design your model in standard CAD software and import an STL or OBJ file into our PreForm print preparation software.
Send prints over WiFi, reprint previous jobs, and manage your print queue with ease with the printer's intuitive touchscreen interface.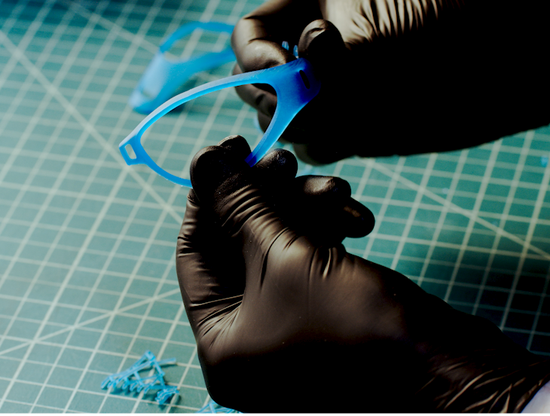 Easily tear away light-touch supports after printing and put the finishing touches on your parts with the Form 3L Finish Kit. 
The Right Material for the Job
Work seamlessly within the Formlabs ecosystem of general purpose and specialty materials. The Form 3L can hold two easy-to-switch resin cartridges, preventing interruptions during large print jobs.
Browse Materials
Perfectionism That Scales
With advanced Low Force Stereolithography (LFS)™ technology, Formlabs has completely re-engineered resin-based 3D printing to drastically reduce the forces of the print process. 
 25μm
Low Force Stereolithography (LFS)™ uses a flexible tank and linear illumination to deliver groundbreaking print quality and printer reliability.
---