Shining 3D EinScan HX RED + Geomagic
Shining 3D EinScan HX RED + Geomagic


 New
 Includes Warranty
 Local Technical Support
 Pre-Order

Why Puzzlebox 3D?
We are the Philippine's leading supplier for Digital Fabrication equipment. We offer the largest selection of expertly curated 3D Printers, 3D Scanners, Thermoforming, Filament, Resins PEEK, Metal, Injection Moulding and Fablab equipment handpicked from across the globe.
SHINING 3D is partnering with 3D Systems and Siemens to bring you the latest all in one solution for reverse engineering. Now you can scan with EinScan HX & EinScan Pro HD multi-functional handheld 3D scanner to get high-quality 3D data. Convert your 3D scans to CAD easier than ever before in Geomagic Essentials. Complete your design for 3D printing and manufacturing with powerful design tool Solid Edge SHINING 3D Edition.
Capturing high precision results with EinScan HX & EinScan Pro HD
Fixed Scan Mode
Capture high-accuracy and high-resolution 3D data of small to medium objects.
Handheld Scan Mode
Brings portable and free scanning experience of medium to large objects.
Bridging the gap between 3D scanning and CAD in Geomagic Essentials
Geomagic Essentials is the essential bridge between 3D scanning and design. Geomagic Essentials processes scan data in a way that makes it compatible with your native CAD workflow. This makes it the ideal solution for scan to print and downstream reverse engineering applications.
Digital innovation platform Solid Edge SHINING 3D Edition
As a new generation of digital innovation platform, Solid Edge SHINING 3D Edition includes reverse engineering, generative design, and simulation together with CAD tool in one platform.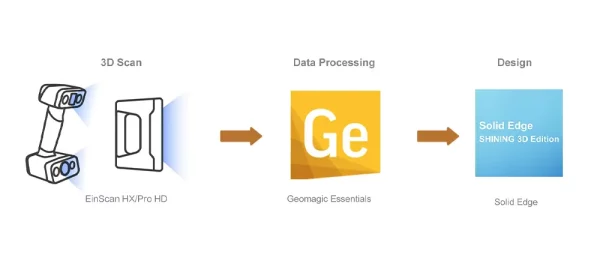 Complete scan to CAD workflow
Scan an object with EinScan HX or EinScan Pro HD. Export your scanned data to Geomagic Essentials.
Complete mesh, extract features and NURBS in Geomagic Essential.
Do reverse engineering in Solid Edge