The next generation of industrial 3D printing technology.
This Product includes:
Formlabs Form 3
Resin Tank
Build Platform
Finishing Kit

 In Stock
 Award Winning
 Ships Tomorrow
 Sale
 Includes Warranty
 Local Technical Support

Why Puzzlebox 3D?
We are the Philippine's leading supplier for Digital Fabrication equipment. We offer the largest selection of expertly curated 3D Printers, 3D Scanners, Thermoforming, Filament, Resins PEEK, Metal, Injection Moulding and Fablab equipment handpicked from across the globe.
INTRODUCING THE FORMLABS FORM 3
The next generation of industrial 3D printing technology.
This Product includes:
Formlabs Form 3
Resin Tank
Build Platform
Finishing Kit
Optional Add-ons: (please select the correct option during checkout)
Formlabs Pro-Service Plan (local support – 1-year)
FLAWLESS PRINTS, EVERY TIME.
LFS (Low Force Stereolithography) 3D printing balances detail and speed.
The optical system maintains a precise, dense laser spot to ensure accurate, repeatable prints.
Easy clean-up and smoother parts with tear-away light-touch supports.
NONSTOP PRINTING.
Integrated sensors monitor and maintain ideal conditions for consistent performance over time.
Switch between materials in seconds with a simple cartridge system.
User-replaceable components and foolproof design maximize uptime.
GROWS WITH YOUR BUSINESS.
Meet demand, now and forever. Easily transition from one to many with systems that scale.
Don't wait. Print from anywhere as soon as you have files with Remote Print.
Works well with teams. Monitor and manage prints and teams with PreForm and Dashboard. Track individual usage and adjust the print queue when you need to prioritize.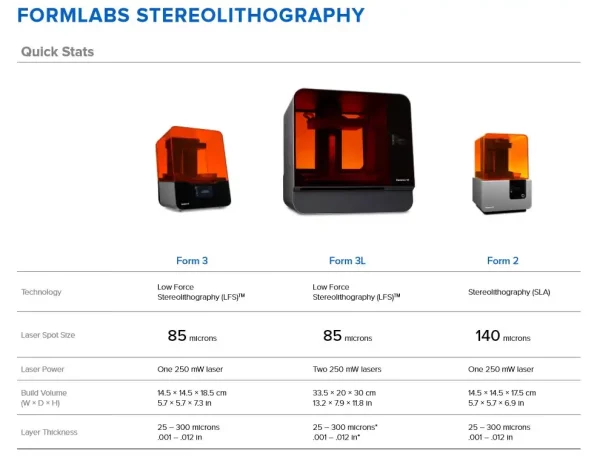 Low Force Stereolithography (LFS)™ uses a flexible tank and linear illumination to deliver groundbreaking print quality and printer reliability.
Even Better Print Quality
The Form 3 revolves around part quality, with many laser, peel and support improvements, part quality is more consistent and is even more crisp, beautiful and detailed than ever before.
Smaller supports required
Cleanup even easier now with the new low force peel technology. Because of lower forces on the part throughout the print, supports and touch points can be a lot smaller resulting in a much easier post-cleanup process. Less blemishes, less labor, less material used.
Longer tray life
Form 3 Resin tanks now last 20 times longer than standard Form 2 tanks so you can keep churning out parts without worry.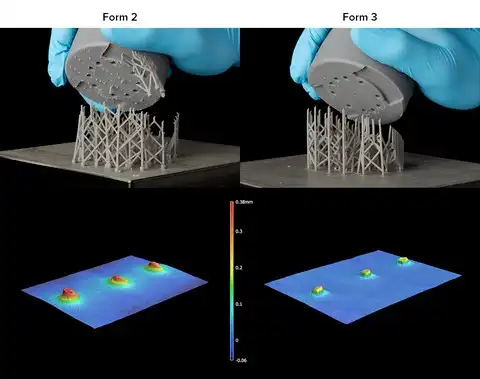 Technical Specifications
Print Technology: Low Force Stereolithography (LFS)
Resin Fill System: Automated
Supports: Auto-generated
Laser Specifications:
1 Light Processing Unit
EN 60825-1:2007 certified Class 1 Laser Product
405 nm wavelength
250 mW power
85 micron (0.0033 in) laser spot
Build Volume: 14.5 x 14.5 x 18.5 cm [5.7 x 5.7 x 7.3 in]
Layer Thickness: 25-300 microns
Minimum layer thickness dependent on resin type
Connectivity: WiFi, Ethernet, USB 2.0
Printer Control: 5.5″ 1280 x 720 touchscreen
Dashboard Printer Management Features:
Manage prints and printers via the cloud
Track resin and tank usage over time
SMS and email alerts
Create enterprise group accounts with admins to more easily share printers and control access
Warranty: One-year manufacturer's warranty
Operating Temperature: Auto-heats to 35 C [95 F]
Product Weight: 17.5 kg [38.5 lbs]
Dimensions: 40.5 x 37.5 x 53 cm [15.9 x 14.8 x 20.9 in]
Software Bundle: PreForm Software
PreForm features:
One-Click Print
Adaptive layer thickness for faster printing with fine details • Remote Print (not available on Form 2)
Auto-orient for optimal print position
Auto-mesh repair
Auto-generation of supports
Rotate, scale, duplicate, and mirror
Layer slicer for path inspection
Available in multiple languages
Supported File Types: .STL & .OBJ
Supported Operating Systems: Windows, Mac
Power Requirements: 100-240 VAC, 2.5 A 50/60 Hz, 220 W
Formlabs Pro Service Plan
Tailored for professionals, this premier support service is designed to meet the needs of your business and deliver rapid response to critical issues. Get a 30-minute customized training session, phone support, priority email support, and on-site support for level II troubleshooting issues. Service available in English and Filipino. Subscription lasts one year.