The new Ultimaker S3 delivers high-quality, composite-ready performance – all efficiently from your desktop. Packed with our latest technology, it is as easy to use as it is powerful, offering the most cost-effective way for disruptive businesses to adopt in-house 3D printing.

 In Stock
 Award Winning
 Ships Tomorrow
 Includes Warranty
 Local Technical Support
 Life Time Support

Why Puzzlebox 3D?
We are the Philippine's leading supplier for Digital Fabrication equipment. We offer the largest selection of expertly curated 3D Printers, 3D Scanners, Thermoforming, Filament, Resins PEEK, Metal, Injection Moulding and Fablab equipment handpicked from across the globe.
MASSIVE PERFORMANCE, IMPRESSIVELY SMALL FOOTPRINT
The new Ultimaker S3 delivers high-quality, composite-ready performance – all efficiently from your desktop. Packed with our latest technology, it is as easy to use as it is powerful, offering the most cost-effective way for disruptive businesses to adopt in-house 3D printing
Features summary
The Ultimaker S3 is a complete production system you can depend on in the office or studio. With advanced features to ensure a reliable printing experience, it's still simple to use thanks to its award-winning touch interface and seamless software integration.
Dual extrusion with a build volume of 230 x 190 x 200 mm (9 x 7.4 x 7.9 inches)
Down to 20 micron (0.001 inch) layer resolution
Open filament system, compatible with glass and carbon fiber composites
Dual filament flow sensors notify you if material runs out
4.7-inch touchscreen interface – Winner of iF Design Award 2019
Reliable
The Ultimaker S3 features next-generation reliability. Its advanced active leveling, stiffer build platform, heated build plate, and more accurate stepper drivers result in the highest print quality of a machine in this form factor. And dual filament flow sensors notify you if you run out of material.
Easy to use
The Ultimaker S3 was designed so that anyone can achieve high-quality results after a 30-minute introduction. Its award-winning touch interface, quick-swap print cores, and predefined print settings enable rapid changeovers and reduce operator time needed.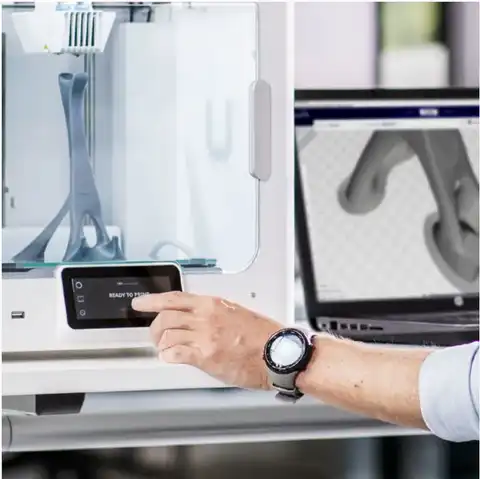 Accessible
On every level, the Ultimaker S3 is our most accessible 3D printer yet. Start creating the parts and models you need using any filament, from any desktop, as part of any workflow, and quickly achieve ROI.
Material choice
Thanks to our pioneering alliance with global materials companies, the Ultimaker S3 lets you print with a growing library of advanced materials – including glass and carbon fiber composites (when using print core CC Red 0.6 – sold separately).
From mechanical strength to flame retardancy, simply pick the material for your application, download a print profile in the Ultimaker Marketplace, and start printing. Optimized performance – no manually entering parameters.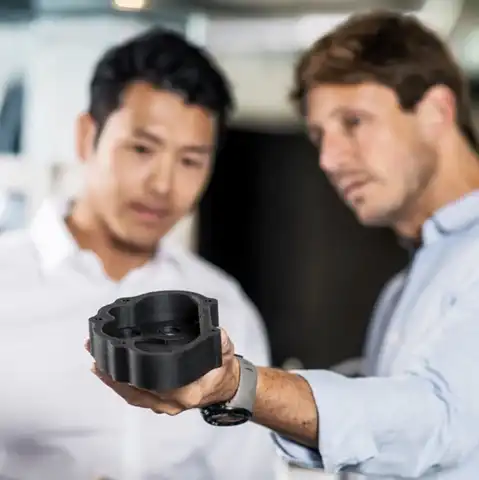 Trusted by the world's leading brands

3D printers that simply work
Our award-winning 3D printers are robust, reliable, and easy to use. They deliver quality parts time and again. Certified to run 24/7, they allow you to achieve the results you need more quickly and easily
Software ready for Industry 4.0
Trusted by millions of users across 14 languages, Ultimaker Cura slices your model and integrates with any workflow through Marketplace plugins. Then scale production and digital distribution with Ultimaker Cloud. Natively compatible with your CAD softwares such as Solidworks, Autodesk, Siemens NX Software through plugin.
Material choice like never before
Ultimaker offers the widest material choice on the market. Through our Material Alliance, choose the perfect filament for your application – from advanced polymers to carbon fiber composites.
Learn about the Ultimaker Materials Alliance of over 50 different material brands
Support dedicated to your success
Wherever you are in the world, Ultimaker support is close by. Our global network of service partners offer professional installation, training, and maintenance in your language and time zone. Get in touch with your friendly Puzzlebox 3D personnel to avail of our services.
TECHNICAL SPECIFICATIONS
Print Technology: Fusion Deposition Modeling (FDM)
Print Head: Dual Extrusion Print head with a unique auto-nozzle lifting system and swappable print cores
Nozzle Compatibility with:
AA Print Core Technology Nozzle type
BB Print Core Technology for dissolvable support Nozzle type
CC Print core for Composites and Abrasive Materials
Build volume: 230x190x200mm
Feeder type: Dual-geared feeder, reinforced for composite materials
Build plate leveling: Advanced active leveling
Layer Resolution:
0.25 mm nozzle: 150 – 60 micron
0.4 mm nozzle: 200 – 20 micron
0.6 mm nozzle: 300 – 20 micron
0.8 mm nozzle: 600 – 20 micron
Speed and precision:
Print speed: Min. 30- Max. 300mm/s
Travel speed: Min. 30- Max. 350mm/s up to 16mm3/s
Precision: 6.9/6.9/2.5 micron
Nozzle options: 0.25mm / 0.4mm / 0.6mm / 0.8mm and more++
Print surface: Heated Borosilicate Glass build plate; Bed ; 20-140C
Heatup Time: <2mins
Auto detection of materials thru NFC technology material Input
Sound Operation level: 50dbA
Supported Filament: PLA, PVA, ABS, CPE, CPE+, Nylon, PC, PP and more…
Composite materials compatible: Print parts with high strength and unique properties
Display: 4.7-inch IF Design Award Winner color touchscreen
Software: Ultimaker Cura  – print preparation software
Ultimaker Connect – printer management software
Cloud Support: Ultimaker Cloud (allows printer to be connected to a printer management system that can track the users, print times, print consumption and other statistics)
Plugin integration: SolidWorks, Siemens NX, Autodesk Inventor
Supported File Types: Ultimaker Cura: STL, OBJ, X3D, 3MF, BMP, GIF, JPG, PNG. Printable formats: G, GCODE, GCODE.gz, UFP
Supported OS: Windows, Mac, Linux
AC Input: 100-240V / 50-60HZ / 350W max.
*NFC system to automatically detects  material type with official Ultimaker filament
*Open filament system allows printing of 3rd party filament
Connectivity: WiFi, Ethernet, standalone via USB-drive
Camera: Yes
Warranty: One-year manufacturer's warranty
Expert support: Market-leading technical support via email, phone, or from our global community is available to you in your language and timezone.
Extended support: Online resources, extensive manuals (in multiple languages), material technical and safety data sheets (in multiple languages), a detailed knowledge base, and much more.